The latest Gallup tracking poll has just been
released
.
John McCain leads Barack Obama, 49% to 44%, in the immediate aftermath of the Republican National Convention, according to the latest Gallup Poll Daily tracking results.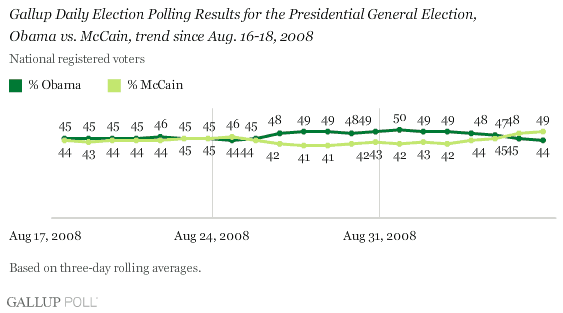 These results are based on Sept. 5-7 interviewing, and are the first in which all interviews were conducted following the completion of the GOP convention. Immediately prior to the convention's Sept. 1 start, Aug. 29-31 interviewing showed McCain with 43% support among registered voters, compared with 49% today. Thus, Gallup credits McCain with a six-point convention bounce.
With this release, most of the major national polls have now reporting on data taken after the Palin and McCain speeches from the convention. The RealClearPolitics
aggregate
now shows a 3.2% lead for McCain.